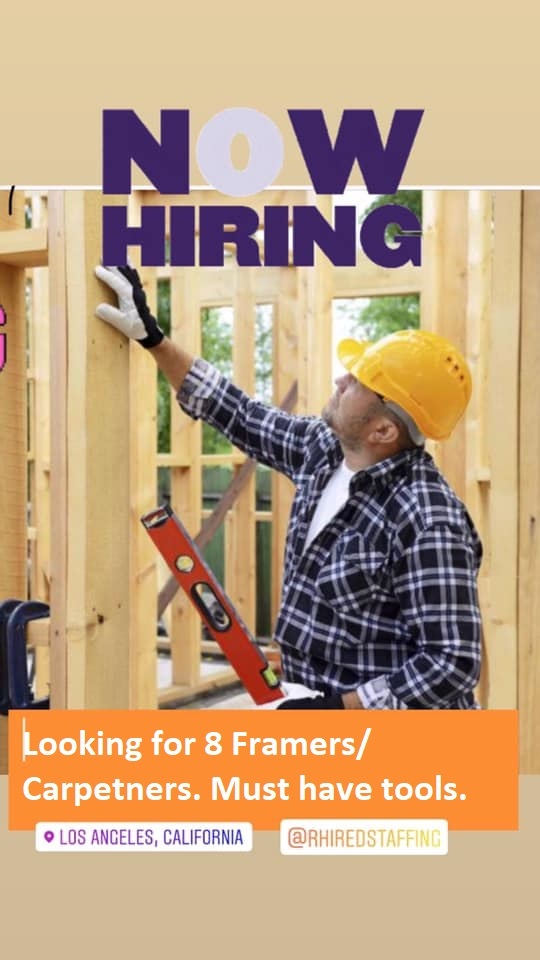 POSITION SUMMARY
5 IMMEDIATE OPENING – Perform work involving the erection and dismantling of scaffolding, operation of heavy equipment, rigging the equipment loads, and completion of various construction projects.
EXPERIENCE LEVEL
Intermediate
PRIMARY RESPONSIBILITIES AND DUTIES
Read blueprints and specification to determine the scope of work: locations, quantities, and sizes of materials required.
Identify all tools required for tasks and measure, mark, and cut required wooden/metallic materials to required specifications.
Erect and disassemble scaffolding for buildings and other structures and installs ladders, handrails, walkways, platforms, and gangways.
Construct, re-enforce, and dismantle pre-constructed Scaffolds.
Build and construct wooden Scaffolds and auxiliary items.
Perform work involving rigging of equipment loads.
QUALIFICATIONS
May require a high school diploma or its equivalent with previous years of experience in the field or in a related area.
Must possess working knowledge skills and abilities for position.
Ability to understand, follow and transmit written and oral instructions and communicate effectively with management/supervision.
Ability to use hand tools, power tools and layout tools safe and efficiently.
REQUIREMENTS
Able to meet all physical requirements.
Must have all required tools
Observe and comply with all safety and project rules. Performs other duties as required.
Starts ASAP in Downtown LA CALL ONLY 323-916-1094 or 714-678-7731.
OTHER POSITIONS:
CARPENTERS – WITH TOOLS Up to 30.00
FRAMERS WITH TOOLS Up to 30.00 
START THE PROCESS – APPLY ONLINE: https://rhiredstaffing.com/employees/apply-online/